Kohitsuji Nursery School offers day care for over 2-month-old infants up to preschool children.
We have a full lunch system using natural and additive-free food.
Day care is available until 18:00 even on Saturdays.
On weekdays, extended day care is available until 19:00.
Temporary day care is also available. Feel free to contact us.
Staff Wanted
Qualification: childminder or kindergarten teacher's license
If you want to apply, call us for details.
Name

Kohitsuji Nursery School, a specified non-profit corporation
Name of the Principal

Junko Takehana
Address

2-7-21 Joto, Oyama-shi, Tochigi 323-0807 Japan( Map)
TEL

0285-25-7152
FAX

0285-25-7153
Day Care Hour

Normal 7:00 - 18:00 (Mon - Sat) / Extended 18:00 - 19:00 (Mon - Fri) * Inquiry Time: until 18:00
Closed

Sundays / national holidays / summer holiday (mid-August) / winter holiday (one week around New Year's Day)
Quota

25 pupils (2 months old - 5 years old)

July, 1978

Kohitsuji-en, an infant nursery room, was opened.
1995

Japan started Angel Plan as a measure for declining birthrate.
Accordingly, Oyama-shi also applied the private childcare service to excellent non-authorized childcare facilities.
In the city, Sakura Nursery School and Kohitsuji Nursery School were designated.
February, 1999

The commemorative performance and thanks meeting for the 20th anniversary of the foundation were held.
July

The art exhibition for great modern international masters to commemorate the 20th anniversary of the foundation was held.
July, 2006

In recent years, as the population of Oyama-shi increased, the number of waiting children for nursery school vacancies also rose chronically.
The Oyama-shi Childcare Center Improvement Organization approved Konomi Nursery School and Kohitsuji-en among non-authorized childcare facilities.
October

We gained NPO status because a corporate status is one of the requirements for authorization in Oyama-shi.
February, 2007

We submitted authorization-related documents to the prefectural government. Our childcare facility was improved.
March

It was inspected by the prefectural government and was basically on the track to authorization.
3 nursery schools including ours were put on the city's budget for the next year.
April

Shimotsuke Shimbun, Tochigi's local newspaper, featured our plan to open an authorized nursery school (with authorization, we changed the name to Kohitsuji Nursery School).
July

As a result of various considerations, we decided to build a new building.
November

The construction was started.
February, 2008

The construction was completed. Our nursery school was authorized.
March

It started as an authorized nursery school.
May

Opening ceremony of Kohitsuji Nursery School was held.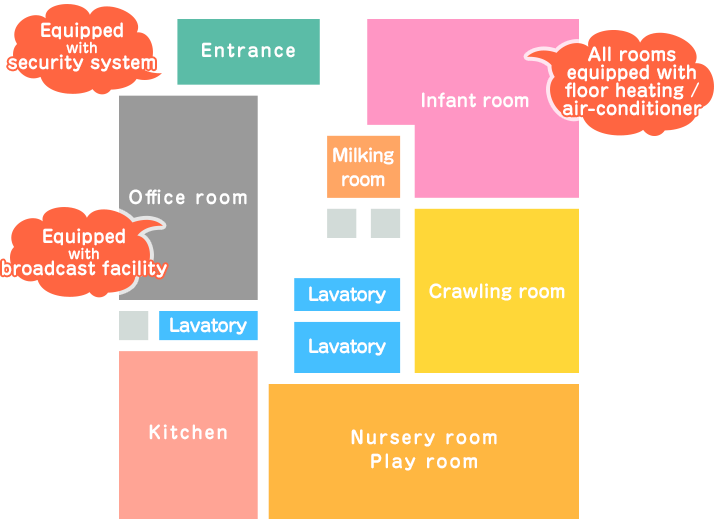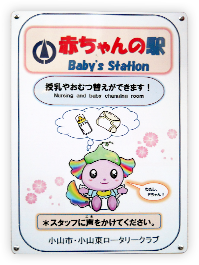 Baby Station
Our nursery school is registered as Baby Station.
We offer a place for breast-feeding and diaper change when necessary.

15 minutes on foot from Oyama Station of the Tohoku Honsen Line